Back to List
Recent Recordings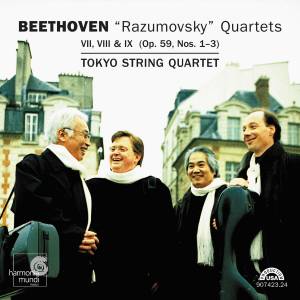 Beethoven "Razumovsky" Quartets Op. 59, No. 1-3
Released:
November 8, 2005
Catalog Num:
CD HMU 907423 / SACD 807423
"One would be hard-pressed to match the polish, emotion and beautifully blended ensemble of the Tokyo String Quartet, as heard in its recently released recording of Beethoven's Razumovsky Quartets. An extraordinary reading, from the urgency, drive and explosive energy that marks Beethoven's music, to moments of the most profound beauty."
-
The Cincinnati Enquirer


Delightfully suave and graceful...a thought-provoking journey into Beethoven's mind. The performances, polished and thoughtful, provide many insights into the inexhaustible world of Beethoven's imagination."
- Gramophone
"The Tokyo String Quartet lays down truly glistening interpretations."
- CNN

The internationally acclaimed Tokyo String Quartet embarks on a series of recordings for harmonia mundi usa. For its first project the group has recorded Beethoven's three middle quartets (Op. 59 No. 1-3, "Razumovsky"), the first installment of a complete Beethoven cycle to be completed by 2008. Beethoven's opus 59 quartets have become inseparably linked with the name of Count Andreas Kirillovich Razumovsky, the Russian ambassador in Vienna as well as one of the city's foremost musical patrons. In 1806 Razumovsky commissioned Beethoven to write three string quartets. They were completed in a mere seven months - uncharacteristically fast work for the intensely self-critical composer. One of the conditions of the commission was that Beethoven include a Russian folk tune in each quartet. Only the first two have an actual folk melody, but some feel that the second movement of the third, with its melancholy main theme and its highly original use of cello pizzicato, represents Beethoven's attempt to evoke a Slavic character. Above all, with these three truly revolutionary quartets, Beethoven left behind the classical confines of the genre and gave it a truly symphonic dimension.