Back to List
Recent Recordings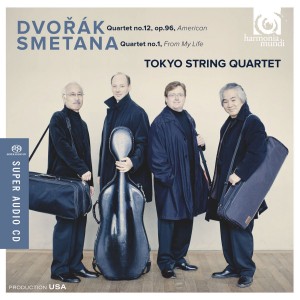 Dvorák: Quartet No. 12, Smetana: Quartet No. 1
"In its valedictory release, the world-renowned Tokyo String Quartet presents a pair of well-loved chamber works offering a glimpse into the private world of two Czech composers. Antonin Dvorák and Bedrich Smetana—although they were sometimes regarded as musical opposites in their homeland—together came to represent the quintessential sound of 19th-century Czech music."
Harmonia Mundi, April, 2013
************************************************
Michael Tumelty - Herald Scotsman
April 21, 2013
"When I reviewed the Tokyo String Quartet's CD of Brahms Quintets with guest musicians Jon Manasse and Jon Nakamatsu last November, I knew it was the group's penultimate recording. Violinist Kikuei Ikeda and violist Kazuhide Isomura had decided to retire and the remaining duo, violinist Martin Beaver and cellist Clive Greensmith, after months of agonising, decided not to replace the irreplaceable in an ensemble with a unique sound and a 45-year career at the top of the business, but call it a day and gracefully disband. One final CD was promised, and here it comes, due out a week tomorrow. It presents two of the greatest masterpieces from the Czech repertoire in Dvorak's American String Quartet and Smetana's First String Quartet, From My Life. They are quintessential Tokyo recordings, steeped in wisdom, flawless clarity of ensemble, unforced and reaching to the heart of the music. There will be no more from these magicians, but the legacy of recordings will endure."
************************************************
Paul Morley - Sinfini Music
May 13, 2013
Dvorak's American Quartet and Smetana's From My Life: "Two magnificent four-part, four-way miniaturisations of mental and physical immensity, executed with single-minded brilliance.
...The American's volatile combination of pioneering optimism and world-weary acceptance, jaunty melody and haunted history, an intimate relation his New World Symphony, comes from the verge of the American 20th century when classical music was perversely seen as a solution to the troublesome construction of a distinct American musical voice. It's a perfect way for the Tokyo Quartet to end, with their version of an unlikely, exploratory beginning.
And then, their enlightened, plangent version of a defiant ending: Smetana's impassioned autobiographical compression of a life that was breaking down reflects their own story, their experienced commitment to how a great, liquid string quartet transmitted with vim and sensitivity can symbolise a whole existence, the introspection, the exuberance, the pleasure, the pain, the panic, the peace of mind, and the poignant fading into silence that inevitably follows all the dazzling, joyous, forward-looking life and energy."
Related Links