Back to List
Recent Recordings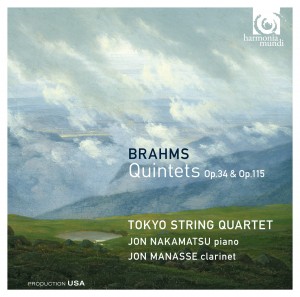 Brahms Quintets: Op. 34 & Op. 115
Released:
August 22, 2012
The Tokyo's recording of the beloved Brahms piano and clarinet quintets with Jon Nakamatsu and Jon Manasse was released on November 13, 2012, and is already receiving the highest acclaim.
Lee Passarella of Audiophile Audition:
"While the Tokyo Quartet seems to be going stronger than ever in its series of recent recordings for Harmonia Mundi (getting generally superb engineering support helps), the players have outdone themselves on the current Brahms disc. The interpretation by the Tokyo and Manasse is about as emotionally complex and satisfying as I've heard, and I doubt the beauty of the playing has been surpassed, or if it has, I haven't heard evidence in concert or on recording."
The Piano Quintet is "another superb performance by the Tokyo, here joined by the excellent Jon Nakamatsu. I can find nothing to quibble with here and in fact have enjoyed the work more than I have on many other hearings."
"Most collectors will have versions of these masterworks on their shelves; still, the current release seems to me an almost mandatory purchase for any Brahms lover."
Michael Tumelty of The Herald Scotland:
"The immaculate and wise Tokyo Quartet are joined by two American soloists, clarinettist Jon Manasse and pianist Jon Nakamatsu, in pristine and moving performances of Brahms's Piano Quintet in F minor and the sublime Clarinet Quintet in B minor. The Tokyo Quartet is not a shouty group. They eschew rhetoric. And in that respect, they are exquisitely matched by Manasse, whose warm, liquid tone in the serene and achingly autumnal slow movement of the Clarinet Quintet, with the whispered, murmuring Tokyo string sound, is time-stopping. Nakamatsu's dry, lucid piano tone and dazzling sense of rhythm underpin the impact of a brooding, brilliant performance of the Piano Quintet in an important and revealing new recording of two great and very different masterpieces."
John Terauds in The Toronto Star:
"One of our time's finest string quartets says goodbye in style with a heartfelt 80 minutes that features two of the great quintets of Western history: Johannes Brahms' Op. 34, with piano, and the Op. 115 with clarinet."
Related Links