Back to List
Recent Recordings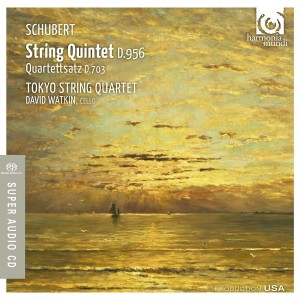 Schubert Quintet in C, Quartettsatz D703
Released:
November 7, 2011
The Tokyo's latest recording of the Schubert Quartettsatz and the Quintet in C with cellist David Watkin receives an IRR Outstandingin the December issue of the International Record Review, joining several discs of the quartet's highly acclaimed Beethoven cycle to receive that distinction.
Midwest Record calls this disc "...a deep, dramatic reading that's flawless throughout".
John Miller of SA-CD.net:
"This is a powerfully moving performance of the String Quintet in which the Tokyo Quartet and David Watkin dig deep into Schubert's and their own souls. With breathtaking sound, I'm almost certain that this will prove to be my SACD of the year. Please don't miss it; even if you are not normally a fan of chamber music, this performance gives luminous insight into one of humankind's great achievements."
The Classical Music Sentinel:
"This is the kind of chamber music work that demands the musicians playing it, or should I say their instruments, perform a disappearing act. The musical idea, or statement, is first and foremost. The instruments producing that statement are strictly a means to an end. Only by attaining a certain level of ensemble playing, can a group of musicians embody the music's abstract concept and translate it into something more concrete for the listener. And that is something the Tokyo String Quartet, along with cellist David Watkin, achieve extremely well. They turn the notes printed on the page back into what Schubert envisioned before writing them down. A rare achievement by any standards, especially in these days of 'digital' manipulation."
"Rarely have I heard this music so keenly expressed in a recording that exposes every possible degree of nuance the musicians wring out of their invisible instruments."
Jean-Yves Duperron - November 2011
Audiophile Audition:

It's good to hear from the Tokyo String Quartet again-not that they haven't been recording lately, but they appeared much more frequently on disc back in the 70s and 80s, when they were headliners for RCA Records. Then, their suave and perhaps overly polished playing offered an alternative to the hard-driving Julliard or the polished but more red-blooded Guarneri. On the evidence of the current Schubert disc, the Tokyo still produce a suave, beautifully-integrated sound, but these much-loved, much-recorded works also have a tensile strength and toughness where appropriate, qualities that sometimes eluded the Tokyo Quartet of earlier times. Dynamics and tempi are perfectly judged in the first movement of the Quintet to produce a fluid, intricately shaded musical argument that's pretty much pitch perfect.
- Lee Passarella, Nov 2011

Related Links