Back to List
News
Tokyo Farewell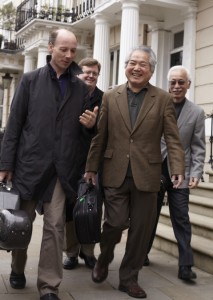 In the Fall of 2011, we wrote to you about Kikuei and Kazu's decision to retire. Martin and Clive had no shortage of fine applicants auditioning for the positions of 2nd violin and viola, but after a great deal of thought, they decided that the Tokyo String Quartet's extraordinary 44-year history would officially come to an end in July of 2013.
In this last season as a quartet, we were grateful to feel, as was noted on numerous occasions, that we were still 'on the top of our game'.
But as Martin notes: "It is a difficult prospect to replace one long-standing quartet member. To replace two of them simultaneously is a Herculean task. With the retirement of our colleagues in our minds, we felt that the most fitting way we could honor and celebrate our quartet's long and illustrious career was to bring it to a graceful close."
Warmest thanks to all the Tokyo Quartet's audiences, past and present, who have supported and cheered us along the way.
We will miss you!
All our best wishes,
Martin Beaver
Kikuei Ikeda
Kazuhide Isomura
Clive Greensmith